Lavazza Corporate Management Centre
---
Aurora, the project of Cino Zucchi Architetti, winners of a competition by invitation, redesigned the block between via Bologna, via Pisa, via Ancona and corso Palermo to build a new and vital environment where Lavazza established the company's new Corporate Management Centre. A single location for roughly 600 employees, very near the industrial hub of strada Settimo, the site of one of the largest plants in the world for the processing and production of coffee. TheLavazza Innovation Centre , dedicated to research and innovation, was also opened.
Construction work on the Corporate Management Centre began in Autumn 2014 and was completed in 2017.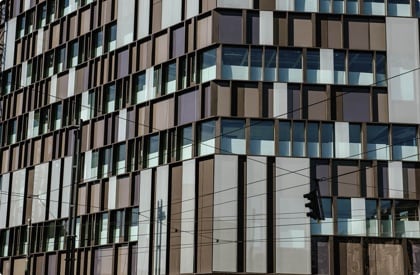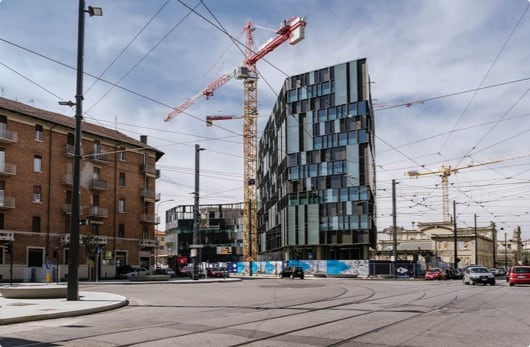 The building that houses the Lavazza Corporate Management Centre has the sinuous shape of a large cloud. The height of the complex varies on each side, depending on their orientation to the sun and the surrounding buildings: at the heart of the block, on the side of via Ancona and new courtyard, it rises up three storeys, reaching six storeys on the side facing largo Brescia.
The materials used for construction include windows which alternate with metal panels and glazing treated with decorative serigraphs. Other features are the pilasters and metallic string courses: a grid of vertical and horizontal elements, exterior to the window plane, creating an effect of light and shade in changing seasons and times of day and helping to shield the inside from direct sunshine.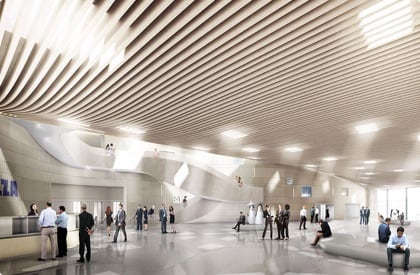 A large glass atrium with a curved roof connects the Corporate Management Centre to the Lavazza Museum, the garden courtyard, the Store and La Centrale. The main interior staircase rises up in a graceful flow along the wall of the building, reaching the third floor and opening out into a large terrace with roof garden.
The two basement floors are for company parking. The ground floor houses the functions that relate to the public: reception, meeting rooms and work spaces for consultants, a break area, gym and the Lavazza Museum store. The other levels are dedicated to offices.
Lavazza has involved its employees by collating suggestions and ideas to create a work space that responds as much as possible to their needs.
The interior furnishings, co-designed by the Thema Progetto Group, are as sustainable as the rest of the building, designed for human comfort, reduced energy consumption and efficient space management.